Asian Chicken Salad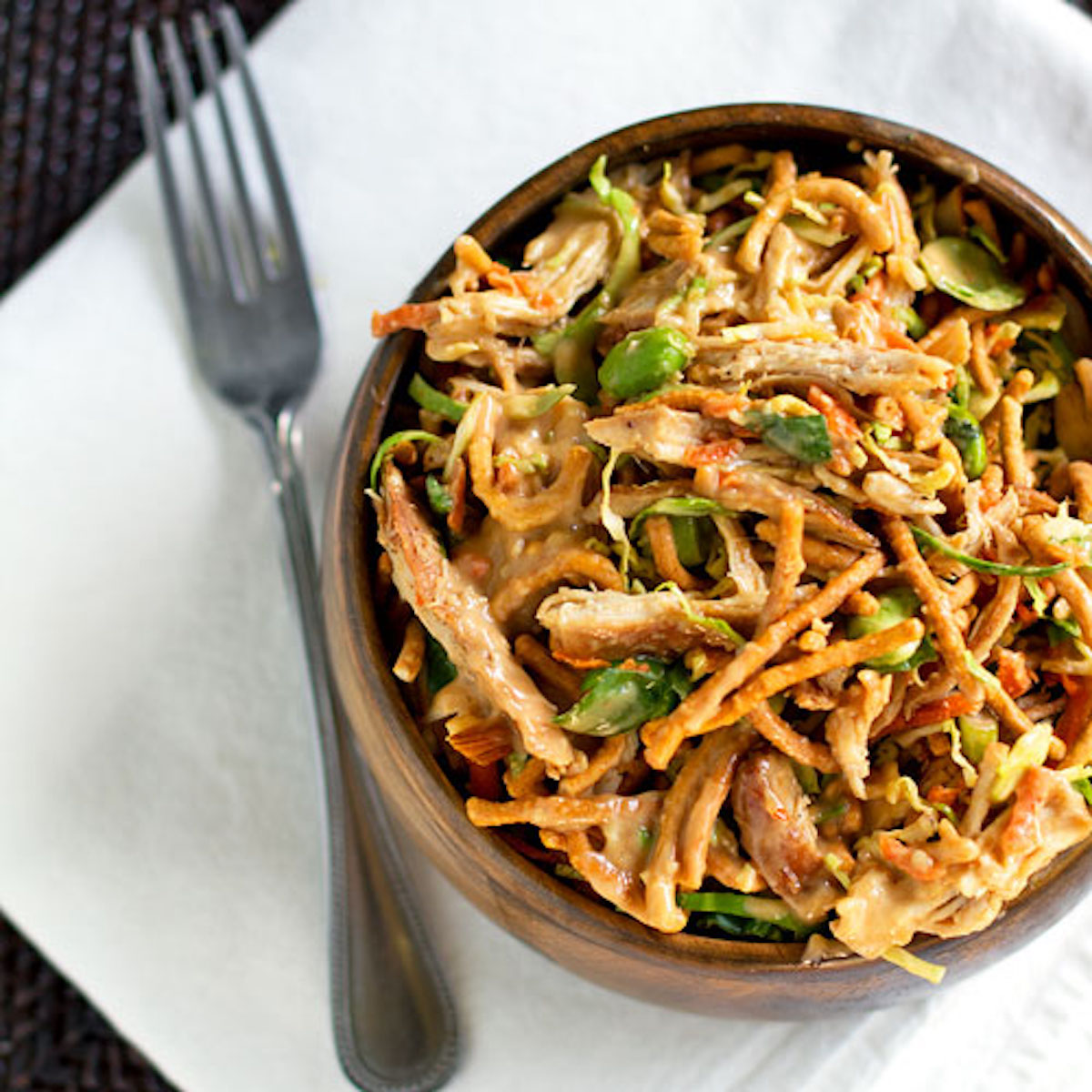 INGREDIENTS
1 recipe Asian Dressing
6 ounces wonton wrappers
Canola or peanut oil, for frying
4 cups broccoli florets
4 ears fresh corn, grilled or
2 cups frozen corn kernels
Unsalted butter softened
Kosher salt and ground white pepper
1 bunch scallions (about 8)
4 large carrots
2 large red bell peppers
1/1⁄2 pounds boneless skinless chicken breasts
2 tablespoons teriyaki sauce
8 cups salad greens (baby lettuces or romaine and iceberg), washed and dried
2 tablespoons sesame seeds, toasted
Read more articles like that:
METHOD
Asian Chicken Salad Makes 4 main-dish salads; double the recipe for 8
 Make the dressing; set aside.
Cut the wonton wrappers into 3 x 1-inch strips. Heat 1⁄2 inch of oil in a large sauté pan or deep skillet over medium-high heat until moderately hot but not smoking (360° to 365°F). Add the wonton strips in batches, in a single layer, and fry until golden and crisp, about 30 seconds per side, turning once. Using a slotted spoon, move it to a wire rack to drain
Half-fill a large saucepan with salted water; bring to a boil over high heat. Add the broccoli florets and blanch until crisp-tender, 1 to 2 minutes. Using a slotted spoon, transfer to a bowl of ice water to stop the cooking, then drain.
Shuck, butter, season, grill, and steam the corn, then cut the kernels off the cobs. If using frozen corn kernels, melt 1⁄4 cup (1⁄2 stick) butter in a hot skillet over medium-high heat and toss until deep golden brown. Transfer to a plate to cool.
Slice the green parts of the scallions 1⁄2 inch wide on the diagonal. Peel and shred the carrots. Stem and seed the bell peppers then cut into 3⁄4-inch dice.
Lightly brush the chicken breasts all over with the teriyaki sauce and sprinkle with 1⁄2 teaspoon white pepper. Grill the chicken outside on a medium-high grill or on the stovetop in a lightly oiled nonstick grill pan over medium-high heat. Cook until the juices are clear when cut at the thickest point, 10 to 12 minutes, turning once. Let stand for 5 minutes, then slice into 11⁄2-inch pieces.
Place the chicken in a large bowl. Drizzle with a few tablespoons of the dressing. Add the broccoli, corn, carrots, and red pepper, then the greens to the bowl. Add more dressing and toss to mix.
Top with the scallions and sprinkle the toasted sesame seeds over all. Scatter some of the wonton strips on top. Serve immediately or at room temperature with the extra dressing and the rest of the wontons. Store leftovers in the refrigerator, tightly covered, and serve the next day.
CHECK OUT OUR VIDEO!