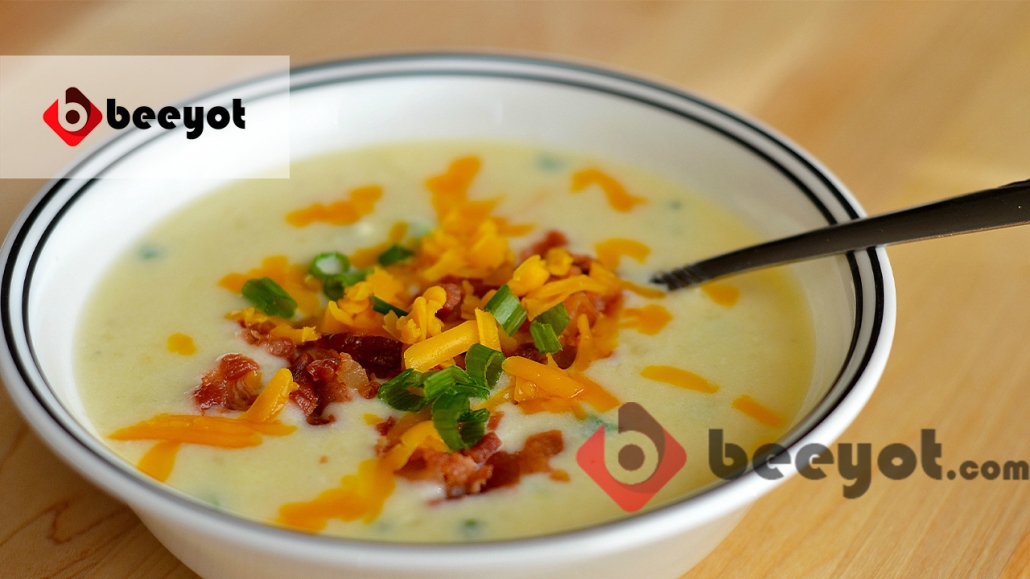 INGREDIENTS
2 pounds Idaho or russet baking
potatoes (about 4 large)
For the stock
Skins from the potatoes
2 cups whole milk
2 cups chicken broth or stock
(homemade or store-bought)
1 tablespoon concentrated chicken soup base or granulated chicken bouillon
1 teaspoon kosher salt, plus more as needed
For the soup 3 cups heavy whipping cream (not light cream or half-and-half)
1 teaspoon ground white pepper, plus more as needed
4 scallions (green part only), cut
1⁄8 inch thick on the diagonal
Full-fat sour cream (optional)
METHOD
Makes 2 quarts (4 light-meal servings)
Preheat the oven to 425°F. Scrub the potatoes well and bake, turning them once, until they are soft and easy to press with your fingers, about 1 hour.
Make the stock: When the potatoes are cool enough to handle, scoop out the flesh into a medium bowl, cover with foil to keep warm, and set aside. Combine the skins with the rest of the stock ingredients in a stockpot, cover, and simmer over medium heat for 30 minutes (do not let it boil). Remove the potato skins and discard. There may be some bits of potatoes left in the stock, but that's fine.
Make the soup: Fit an electric mixer with the paddle attachment. Beat the potatoes on medium with 1⁄2 cup of the cream until fluffy but not completely smooth, leaving a few bits of potato throughout.
Whisk the remaining 21⁄2 cups cream into the hot stock. With the mixer on low, gradually add the stock to the mashed potatoes a little at a time until all is incorporated. Taste the soup and put in more salt and pepper if you wish. Again the soup to the pot and stir over medium heat until hot. Ladle the soup into individual bowls. Scatter the scallion greens on top. Add a dollop of sour
cream, if you like. Cool any leftover soup to room temperature. Refrigerate, tightly covered, and enjoy within 2 days. Do not freeze this soup.
CHECK OUT OUR VIDEO!
https://beeyot.com/wp-content/uploads/2020/06/Baked-Potato-Soup.jpg
720
1280
Aleena Ali
https://beeyot.com/wp-content/uploads/2018/09/beeyot-logo-300x129.png
Aleena Ali
2018-11-20 12:08:18
2020-06-21 15:59:38
Baked Potato Soup