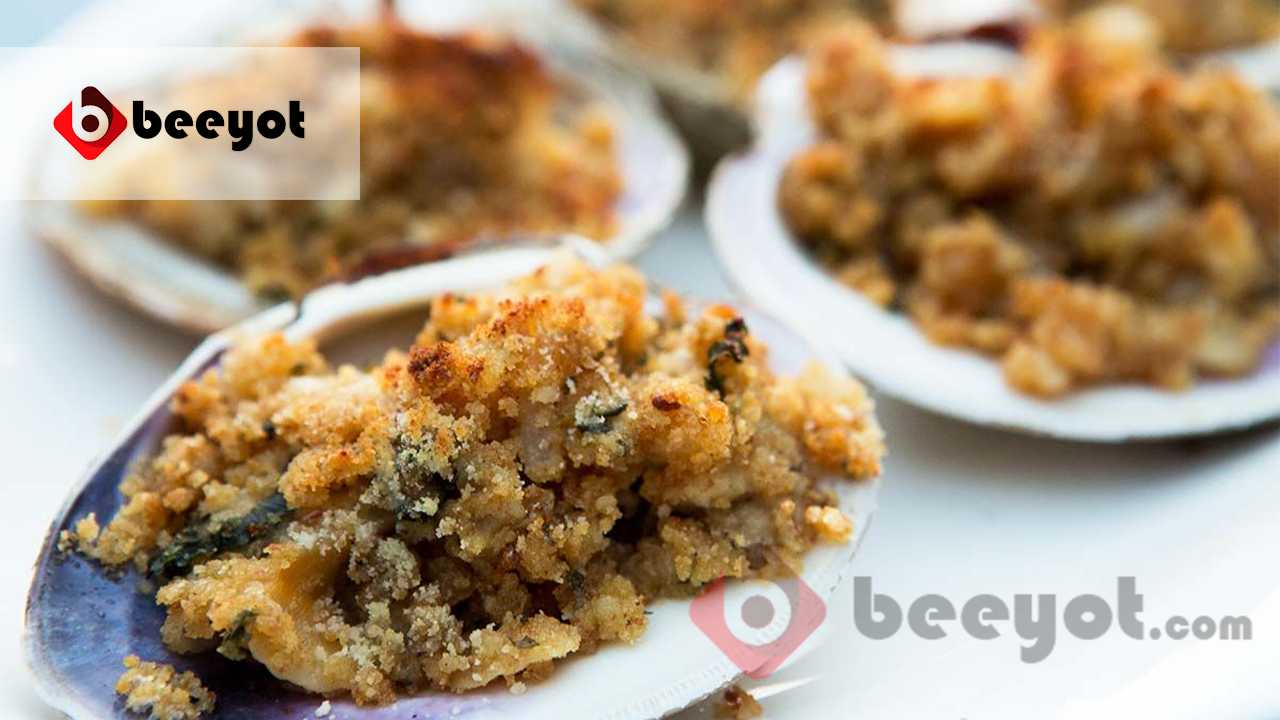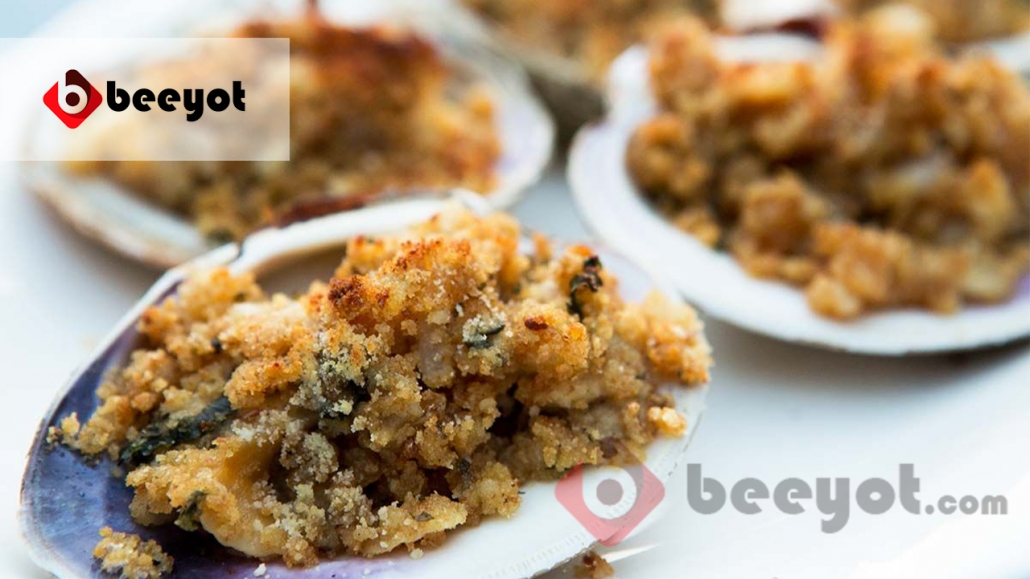 INGREDIENTS
2 dozen cherrystone clams
4 ounces thick-sliced hickory smoked bacon, diced
1⁄3 cup minced red onion
1⁄3 cup diced (1⁄4-inch) red bell pepper
2 teaspoons minced garlic
1 cup fresh breadcrumbs or plain dried breadcrumbs
1⁄2 cup minced fresh flat-leaf parsley
2 teaspoons dried oregano Kosher salt and coarsely ground
black pepper, to taste
6 tablespoons (3⁄4 stick) unsalted butter, melted, plus more if needed
2 tablespoons fresh lemon juice Olive oil, for drizzling
1 ⁄2 cup freshly grated Parmesan cheese, or to taste Paprika
METHOD
Makes 16 stuffed clams
Clean and steam the clams just until they open
Remove the clams from their shells, discarding the clams foot. Break apart the clamshells. Choose 16 of the cleanest, nicest looking shells and rinse them; toss out the rest. Return one clam to each of the 16 shells. Mince the remaining 8 clams and set aside.
Fry the bacon in a large skillet over medium heat until cooked but not crisp. Remove the bacon with a slotted spoon to paper towels to drain. Pour off all but 3 tablespoons of the drippings. Add the onion, bell pepper, and garlic to the skillet and cook, stirring, over medium heat, until soft. Remove the skillet from the heat.
Return the bacon to the skillet along with the minced clams. Add the breadcrumbs, parsley, oregano, and salt and pepper to taste. Stir in the butter and lemon juice, adding a little more of each if needed to bring the mixture together. Return the skillet to medium heat and toss until the mixture is hot, 2 to 3 minutes.
Spoon some of the stuffing over each of the 16 clams in their shells, mounding and packing the stuffing slightly with your hands. Lightly drizzle the stuffing with olive oil, top with the Parmesan, and sprinkle with paprika. At this point, you can bake the clams or cover with plastic wrap and refrigerate up to a couple of hours until company comes. When you're getting ready to serve the clams, heat the oven to 425°F. Place the clams in a shallow pan and bake them until the stuffing is hot and the cheese is lightly browned about 10 minutes. Serve immediately. Do not store or freeze.
CHECK OUT OUR VIDEO!
https://beeyot.com/wp-content/uploads/2020/06/baked-stuffed-clams.jpg
720
1280
Aleena Ali
https://beeyot.com/wp-content/uploads/2018/09/beeyot-logo-300x129.png
Aleena Ali
2018-11-12 11:24:18
2020-06-21 14:36:26
Baked Stuffed Clams