Beeyot's Chocolate truffles without bake

Beeyot Chocolate Truffles Cake without bake has all the taste of the most delicious chocolate cake in a bite-sized truffle!! So simple and delicious!
Even if you've never made candy, you can make these truffles! They are simple and foolproof. And even though truffles are not on the beeyot menu, we wanted you to have the recipe. We've created two different kinds:
one with chocolate centers made from crushed Oreos and cream cheese, the other with delicious centers made from Beeyot frozen cheesecake. Coat them with beeyot Chocolate Ganache and decorate however you like—crushed pecans flaked coconut—or leave them plain. The best part: You can make them a couple of days ahead, so they're great for a party.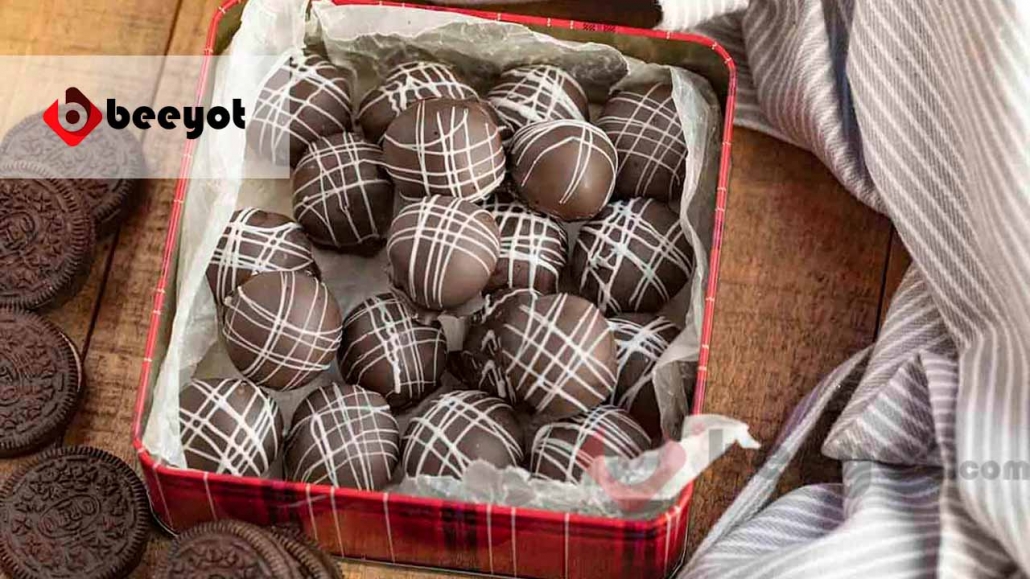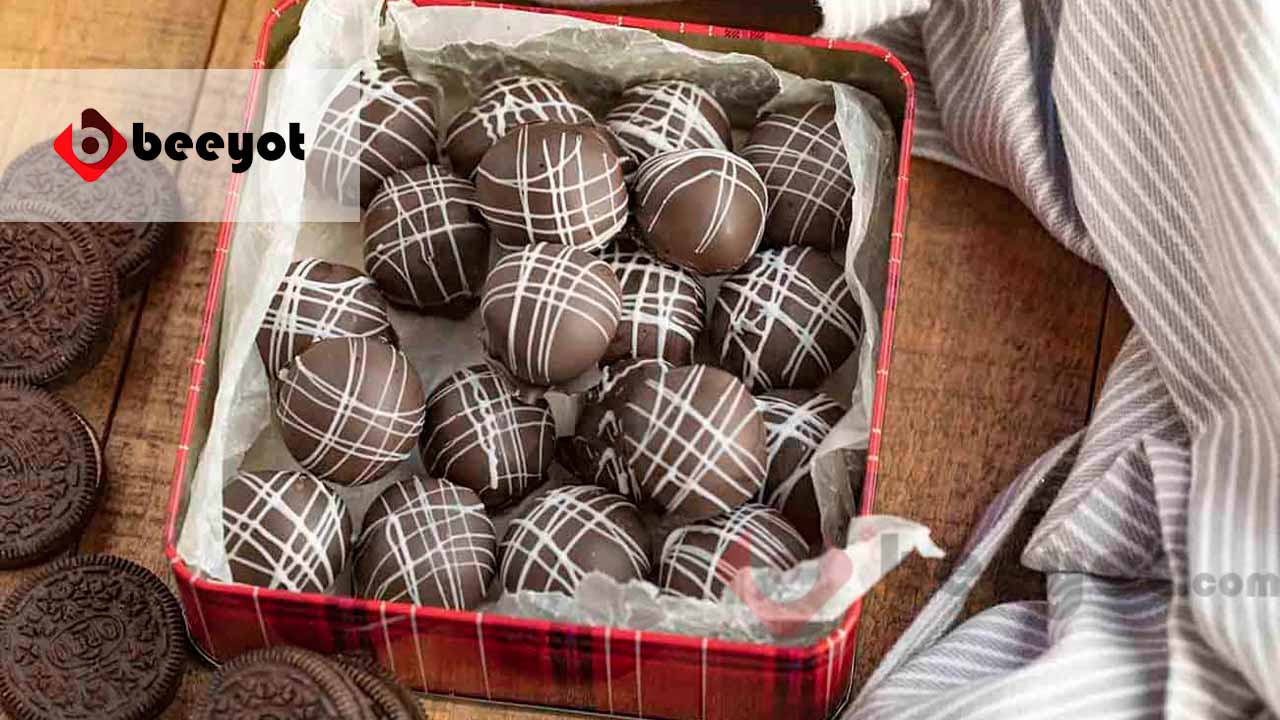 INGREDIENTS
One 16.6-ounce package OREO®
Chocolate Sandwich cookies (regular-size 2-inch cookies)
One 8-ounce package
PHILADELPHIA cream cheese (use only full fat), at room temperature
Softened unsalted butter, as needed
4 cups Beeyot Chocolate Ganache Finely chopped pecans angel flake coconut, toasted if you wish.
METHOD
Makes about 4 dozen truffles
Line three cake pans that can go into the freezer with parchment or waxed paper, securing it with a dab of butter.
Place the cookies in a food processor and pulse for about 30 seconds until reduced to fine, even crumbs, but not powdery. Avoid overprocessing, as the cookies can turn into a fine chocolate meal. Add the cream cheese and continue to pulse until the mixture turns into a chocolate dough and white specks of cheese are no longer visible.
Grease your hands with soft butter and roll the cookie dough into 3⁄4-inch truffle balls (you will have 40 to 50 balls), placing them in the prepared cake pans. Be sure the truffles do not touch each other. Place in the freezer until firm, at least 30 minutes.
Meanwhile, make the ganache and place it in the freezer for about 10 minutes to thicken to dipping consistency.
Remove the truffles and ganache from the freezer. Using your hands, dip each truffle into the ganache, swirling to coat evenly, then return to the cake pans. Continue until all the truffles are coated; again, don't let the truffles touch each other.
Spread out the pecans on one plate and the coconut on another. Roll about one-third of the truffles, one by one, in the pecans, returning each one to a pan. Then roll another third in the coconut; leave the last third "plain" chocolate coated. You will now have three different kinds of truffles (this makes a great dessert presentation).
Refrigerate until the truffles are firm and the ganache is set for about 1 hour. Store in the refrigerator in airtight containers, separating the layers with waxed paper and enjoy within the week. Let the truffles stand at room temperature about 15 minutes before serving. Do not freeze.
Cheesecake Truffles
Instead of making the chocolate Oreo dough, make and bake a layer of cheesecake as for the Whoopie Pie (link). Let cool as directed, then freeze. When ready to shape the truffles, let the cheesecake stand at room temperature for a few minutes, just until it is pliable enough to roll into balls, no longer. Shape, coat, and dip in chocolate as directed for the Chocolate No-Bake Truffles. If the cheesecake softens too much to roll into balls, simply place it back in the freezer for a few minutes until it's cold enough to roll again easily. These are so rich and delicious that they are best left plain, with only their chocolate coating showing (forget the nuts or coconut for these!).
Beeyot's Chocolate ganache
INGREDIENTS
3 cups heavy whipping cream
1/1⁄2 pounds bittersweet chocolate
(at least 60% higher cacao), coarsely chopped
1 tablespoon pure vanilla extract
1 tablespoon light corn syrup
METHOD
Makes about 4 cups ganache, enough to coat 48 truffles or fill, frost, and decorate the top and side of a 3-layer cake
Combine the cream and chocolate in a heavy medium saucepan and stir over medium-low heat until the chocolate melts and the mixture begins to bubble a little around the side. Quickly whisk the mixture until it comes together into a smooth chocolate sauce. Remove from the heat and whisk in the vanilla and corn syrup.
Pour the ganache into a heatproof bowl that can go into the freezer. Chill in the freezer just until it thickens, 10 to 15 minutes. Remove and use immediately to coat truffles or glaze and ice a cake fast, before the ganache has the chance to thicken too much to spread easily.
CHECK OUT OUR VIDEO!
https://beeyot.com/wp-content/uploads/2020/09/Beeyots-chocolate-no-bake-truffles.jpg
720
1280
Aleena Ali
https://beeyot.com/wp-content/uploads/2018/09/beeyot-logo-300x129.png
Aleena Ali
2020-10-01 13:30:11
2021-03-24 02:32:08
Beeyot's Chocolate truffles without bake