Chicken parmesan sandwich is one of the delicious sandwiches at Beeyot! Take this one a long challah roll or Italian hero stuffed with a chicken cutlet that's pounded thin, battered, and fried up golden brown and crisp. It's then topped with marinara, mozzarella and popped under the broiler until the cheese melted. This sandwich to serve friends before the game!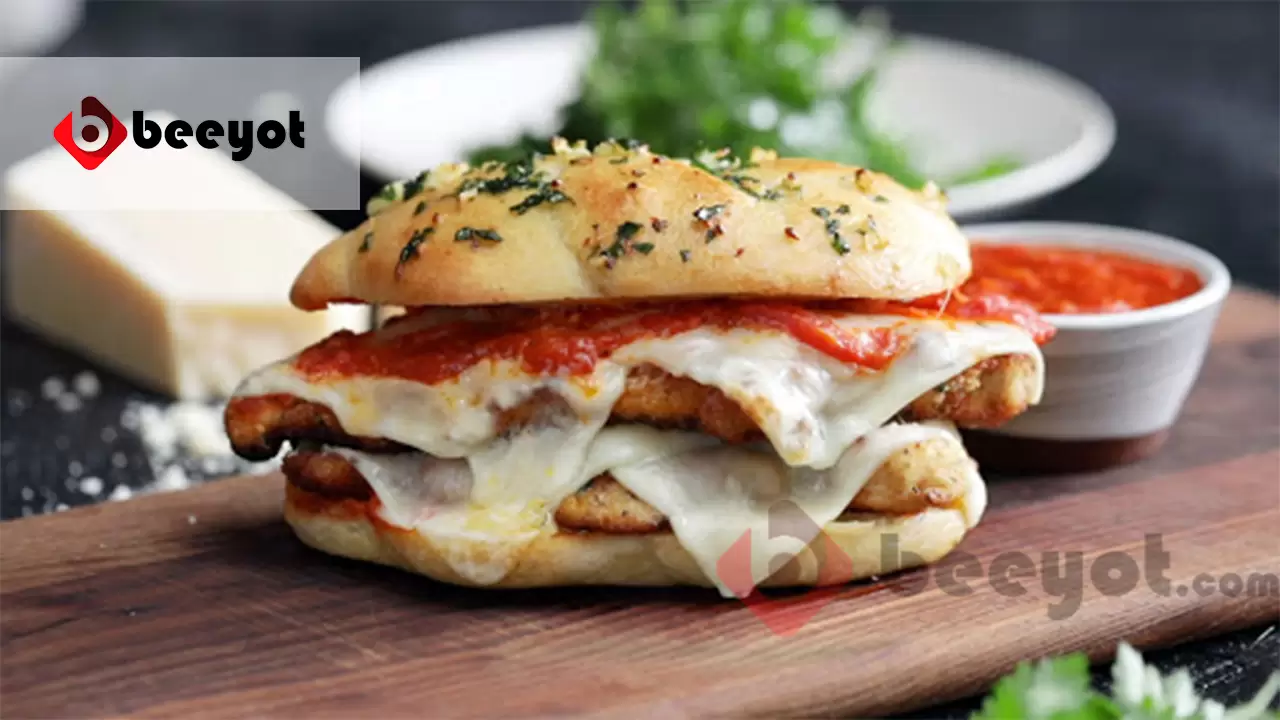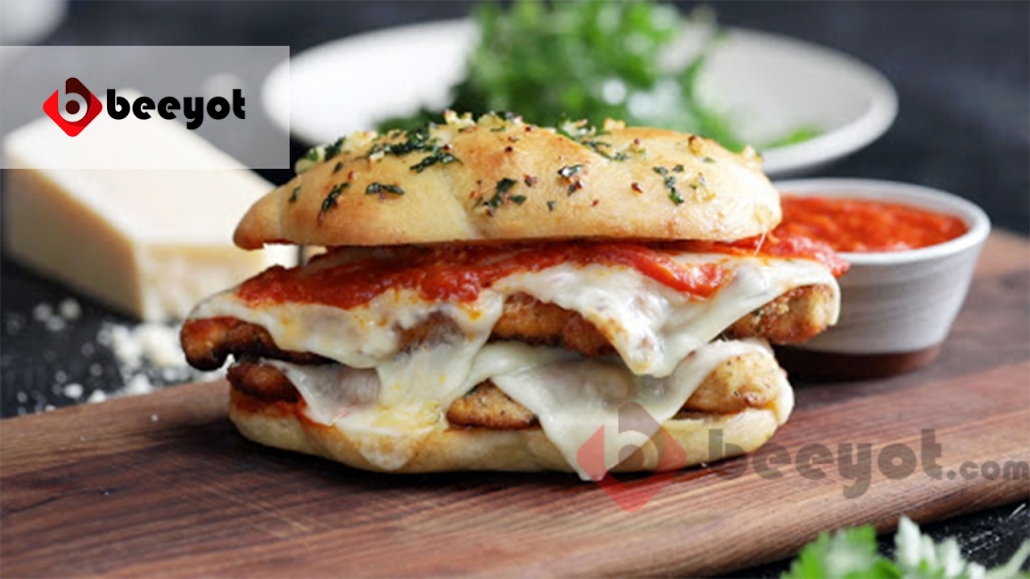 INGREDIENTS
For the dipping batter
1/1⁄2 cups all-purpose flour
2 tablespoons yellow cornmeal
1 tablespoon baking powder
1 teaspoon table salt
1⁄2 teaspoon ground white pepper
1 cup whole milk
2 extra-large eggs
For the subs
1 to 2 cups unseasoned dry breadcrumbs
Four 6-ounce skinless, boneless chicken cutlets, pounded 1⁄8 to 1⁄4 inch thick
1⁄4 to 1⁄2 cup (1⁄2 to 1 stick) softened unsalted butter, as needed
Four 7-inch challah rolls or 8-inch
Italian heroes split and separated
Olive oil, for drizzling
Twelve 1-ounce slices mozzarella cheese
Freshly grated Parmesan cheese, for serving
METHOD
Makes 4 overstuffed chicken parmesan sandwiches
Make Spice and set aside.
Make the Marinara Sauce or heat up the store-bought sauce. While the sauce simmers, whisk together the dipping batter ingredients in a shallow bowl and refrigerate for 15 minutes.
Spread out the breadcrumbs on a platter. Sprinkle the cutlets on both sides with Spice, about 1⁄2 teaspoon on each side or to taste, then dip them in the batter, letting any excess drip back into the bowl. Dredge the cutlets completely in the crumbs and place them on a tray. Refrigerate for 15 minutes to set the coating.
For each cutlet you are frying, melt 2 tablespoons of the butter in a large skillet over medium-high heat. Pan-fry the cutlets, one or two at a time, depending upon the size of your skillet, until golden, crispy, and cooked all the way through, about 2 minutes per side. Transfer to a wire rack to drain while you fry the others. Add more butter before adding more cutlets to the skillet.
Preheat the broiler. Open the rolls and place soft side up in a large shallow pan. Lightly drizzle the insides with a little olive oil. On the bottom half of each roll, place one chicken cutlet (don't worry if it hangs over the sides) and spoon on about 1⁄3 cup of marinara sauce, spreading it over the cutlet. Arrange 3 slices of cheese on top, overlapping them. Broil the open subs until the cheese melts on the bottom halves and the top halves of the rolls are lightly toasted about 5 minutes.
Transfer to individual serving plates and cover each bottom with the top of a roll, set slightly on the diagonal so the cheese, sauce, and cutlet are peeking out. Serve with the extra marinara sauce and Parmesan for sprinkling, if you wish.
CHECK OUT OUR VIDEO!
Watch this video and see how to make a chicken parmesan sandwich.