Deviled Eggs – How to Make best Deviled Eggs in the world

These deviled eggs, while not served at Beeyot recipes, have the same special touch as all deviled egg recipes. They look and taste the best eggs in the world. First, boil the eggs gently, not vigorously, and watch the cooking time closely, so the yolks come out bright yellow instead of a light greenish color.
Turn the eggs a few times during boiling so the yolks will be centered. Add fresh lemon juice, a little Dijon mustard, and some onion to spark up the deviled yolk mixture, and you're on your way to creating a tasty appetizer.
Beeyot recipes exclusive writing this recipe for those people they are finding a topic. How to make deviled eggs? And How many types of deviled eggs recipe? Here, We describe all varieties of deviled eggs recipe, ingredients, and their methods.
Choose your favorite combination: black caviar, minced crisp bacon, smoked salmon topped with salmon caviar, or spicy jalapeño. If you're giving a party or going to one, make all four!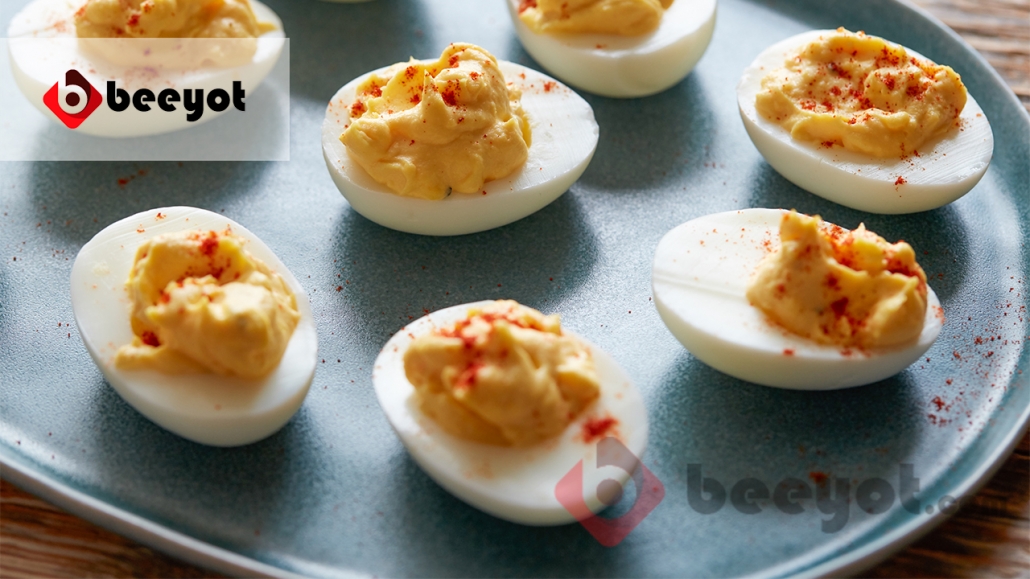 INGREDIENTS
Eight extra-large eggs
1⁄4 cup Hellmann's Real Mayonnaise (don't use light or nonfat)
Two tablespoons minced white onion
Two teaspoons fresh lemon juice
One teaspoon Dijon mustard
1⁄4 teaspoon Tabasco, or to taste
Kosher salt and ground white pepper, to taste.
Garnishes (use the one you wish)
Red salmon roe caviar (less expensive), American black paddlefish caviar (moderately-priced), or imported black Sturgeon caviar expensive) Paprika
METHOD
This method makes 16 deviled egg halves.
Place the eggs in a single layer in a large saucepan and cover with 2 inches of water. Bring to a boil over medium heat and boil gently for 2 minutes, turning the eggs a couple of times during cooking to center the yolk. Cover, remove from the heat and let the eggs sit in the pan for 15 minutes. Using a slotted spoon, transfer the eggs to a bowl of ice water and let sit until cool enough to handle. Peel and cut the eggs into halves lengthwise. Scoop out the yolks into a bowl and refrigerate the whites.
To the yolks, add the mayonnaise, onion, lemon juice, mustard, and Tabasco. Mash with a fork until smooth. Season with salt and pepper to taste and add a drop or two more of Tabasco, if you like.
Pipe the yolk mixture into the whites or fill them using a small spoon, mounding each in the center. Garnish with red or black caviar or sprinkle with paprika. Refrigerate, tightly covered, until ready to serve. These are best when served the day they are made. Do not freeze.
Deviled Eggs with Bacon
Fry 3⁄4 pound thick-sliced hickory-smoked bacon in a medium skillet over medium heat until crisp. Drain on paper towels and mince into small bits. Add 1⁄2 cup of the minced bacon to the deviled yolk mixture. Garnish the finished deviled eggs with the remaining bacon bits instead of the caviar or paprika.
Smoked Salmon Deviled Eggs
Add 1⁄4 cup minced smoked salmon to the deviled yolk mixture. Garnish with red salmon caviar (roe) instead of black caviar or paprika.
Deviled Egg with Relish
Hot & Spicy Deviled Eggs
Add three tablespoons seeded and minced fresh jalapeño peppers and 1⁄4 teaspoon ground cumin to the deviled yolk mixture. Taste, then add a little more Tabasco, if you like. Do not garnish with caviar, but sprinkle with plenty of paprika.
The ways of Beeyot Recipes

Piping the yolk mixture into the whites, instead of simply scooping it, is well worth the effort, especially. if you're serving guests or taking the eggs to a party. Be sure to mince all of the ingredients well. Use a large open-star pastry tip so the yolk mixture flows through the tip easily and evenly.
CHECK OUT OUR VIDEO!
Basic Question:
https://beeyot.com/wp-content/uploads/2020/06/Devil-eggs.jpg
720
1280
Aleena Ali
https://beeyot.com/wp-content/uploads/2018/09/beeyot-logo-300x129.png
Aleena Ali
2018-11-10 11:14:03
2021-03-03 01:23:01
Deviled Eggs – How to Make best Deviled Eggs in the world