French Onion Soup with Swiss Cheese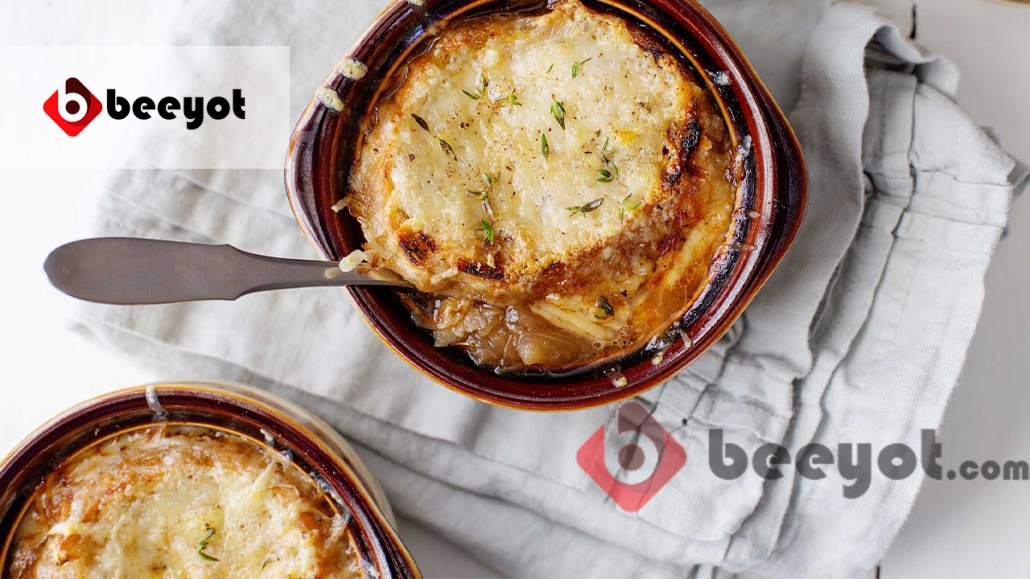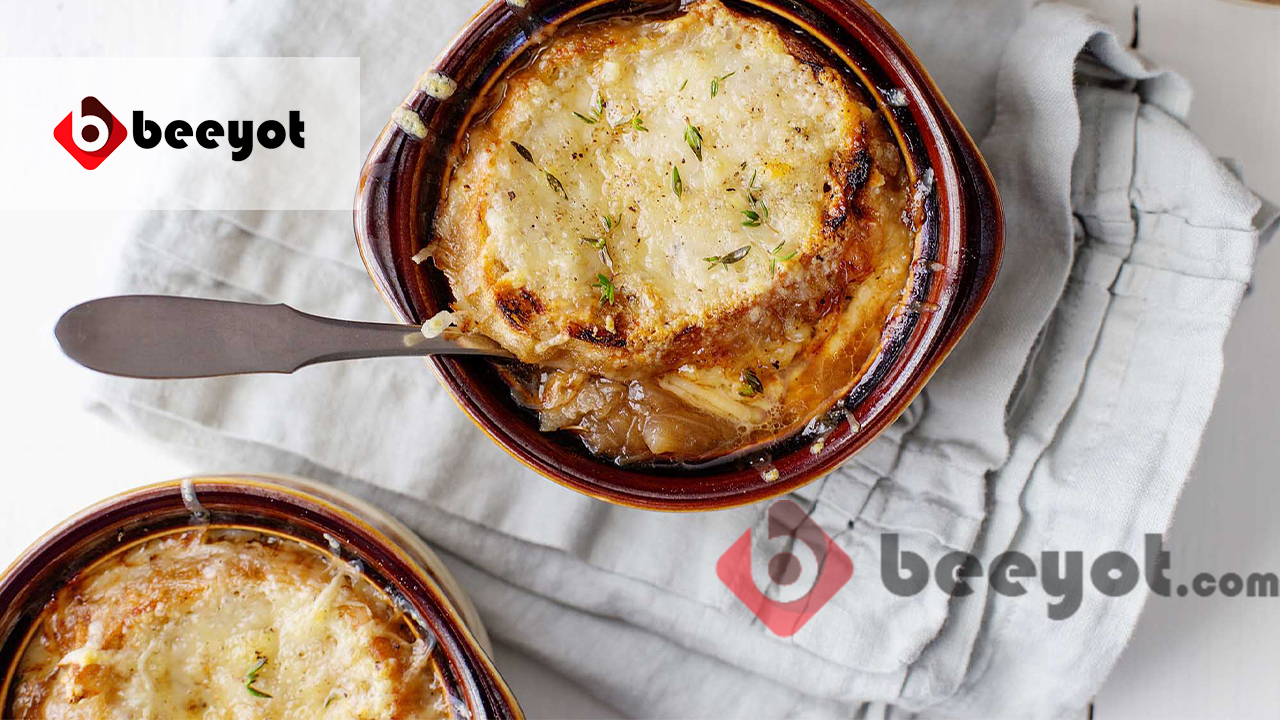 INGREDIENTS
4 pounds Spanish onions
1⁄2 cup (1 stick) unsalted butter
1 tablespoon sugar
6 cups beef broth or stock, plus extra if you like (homemade or store-bought)
2 tablespoons dry sherry
2 to 3 tablespoons concentrated
beef soup base or granulated bouillon
1 teaspoon kosher salt, plus more to taste
1⁄2 teaspoon ground white pepper, plus more to taste
For the Croutons
1⁄2 cup (1 stick) unsalted butter
1 teaspoon garlic salt
Eight 3⁄4-inch-thick slices French baguette or
four 3⁄4-inch-thick slices bread (country white or Club Rye Onion Loaf
Eight 1-ounce slices deli-style Swiss cheese
4 scallions (green part only), cut
1⁄4 inch thick on the diagonal
(optional)
METHOD
Makes about 2 quarts (4 light-meal servings); recipe may be doubled
Peel the onions and cut into thin slices, 1⁄8 to 1⁄4 inch thick, using the medium disk of a food processor or by hand. Separate the slices into rings.
Melt the butter in a soup pot over medium-low heat. Add the onions and sugar and sauté slow and easy until the onions are soft, translucent, tender, a deep golden brown in color, and their edges have browned. This will take about 45 minutes. Do not rush this step by raising the level of heat.
Add the broth, increase the heat to high, and bring to a full boil. Add the sherry and 2 tablespoons of the beef soup base, the salt, and pepper. Reduce the heat to a slow simmer and cook, uncovered, for 30 minutes, adding more broth if you like your soup extra-soupy. Taste the soup and add more beef base, salt, and/or pepper if you like.
Make the croutons while the soup simmers: Preheat the oven to 350°F. Melt the butter, stir in the garlic salt, and use this to butter both sides of the bread. Arrange the slices in a single layer on a baking sheet and bake until golden and crispy, about 15 minutes, turning once. Keep warm.
Ladle about 2 cups of soup into each of 4 individual-serving heatproof
crocks that can go under the broiler, making sure each one has a generous serving of onions as well as broth. Top each crock with 2 small French bread croutons or 1 large one and cover with 2 slices of cheese. Set the crocks on a baking sheet and broil until the cheese melts, bubbles, and turns golden brown, about 5 minutes. Don't worry if the cheese drips over the edges of the crocks, as that makes it even more like it's. Top each crock with a few sliced scallions if you like. Serve immediately. Do not refrigerate or freeze this soup.
CHECK OUT OUR VIDEO!