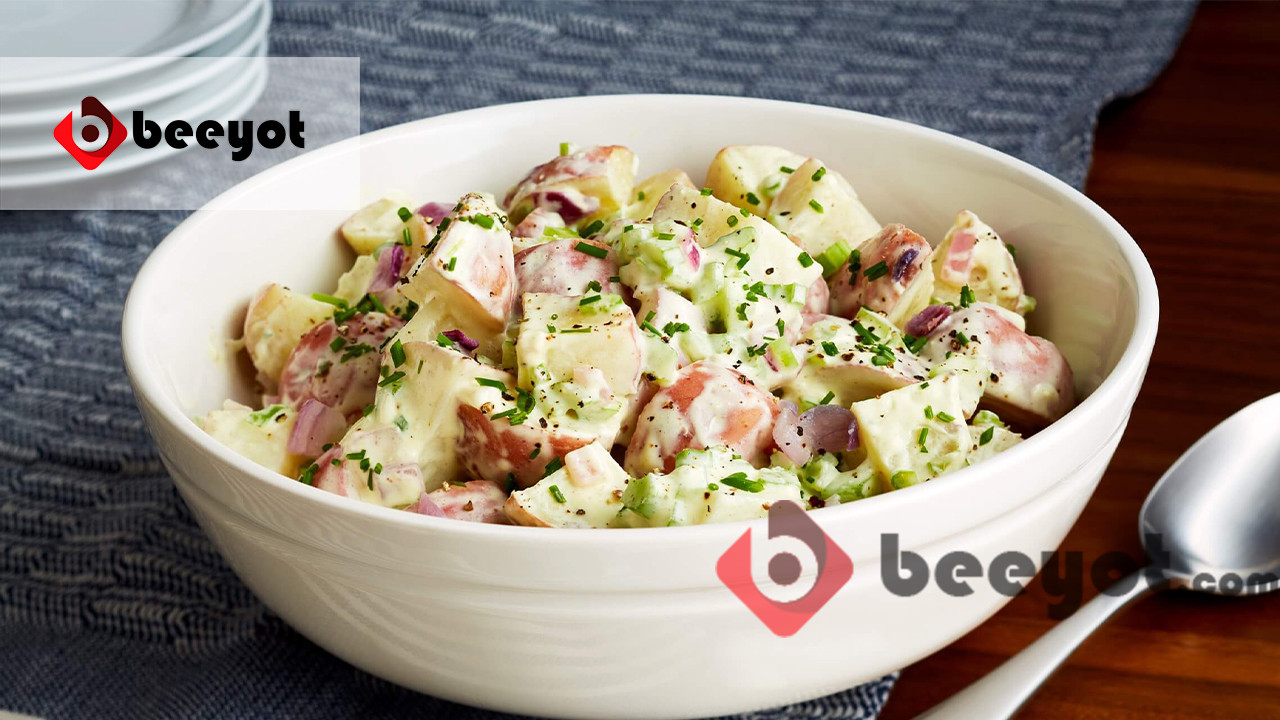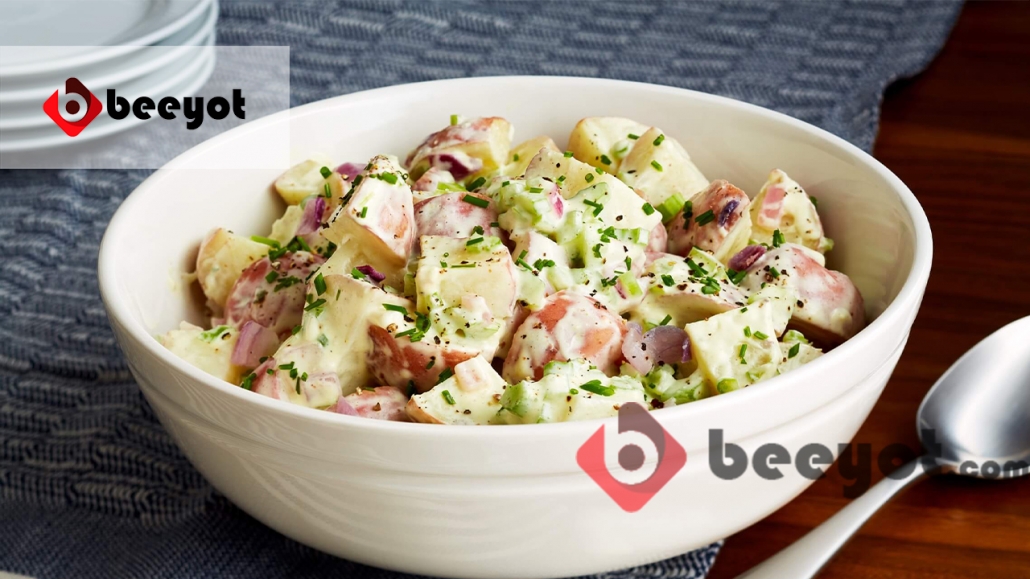 INGREDIENTS
For the sour cream dressing
3⁄4 cup Hellmann's Real Mayonnaise (don't use light or nonfat)
1⁄3 cup full-fat sour cream (don't use flash or nonfat)
Two tablespoons Dijon mustard
One teaspoon kosher salt, or to taste
One teaspoon sugar
1⁄4 teaspoon garlic powder
1⁄2 teaspoon ground white pepper, or to taste
One teaspoon chopped fresh dill, put into taste (optional)
For the salad
One teaspoon kosher salt
3 pounds red skin potatoes (leave their skins on)
Four extra-large eggs
3⁄4 cup chopped fresh parsley
1⁄2 cup finely shredded carrots
1⁄2 cup finely chopped red onion
Two tablespoons chopped fresh dill
METHOD
Makes 8 to 10 servings; 2 quarts (8 cups)
In a small bowl, mix the dressing ingredients. Taste the dressing, adding more salt, pepper, and dill, if you like. Cover with plastic wrap and refrigerate.
Half-fill a large saucepan with water and put in the salt. Slice the unpeeled potatoes crosswise 1⁄4 inch thick and add to the pot. Bring to a boil over high heat, then reduce the heat to medium and simmer the potatoes, uncovered, until just tender, about 10 minutes (don't overcook!); then drain the potatoes well and place in a large bowl.
While the potatoes cook, place the eggs in a small saucepan and cover with cold water. Bring to a boil over medium heat and boil gently for 2 minutes. Remove the pan from the heat, cover, and let the eggs stand in the water for 15 minutes. Using a slotted spoon, transfer the eggs to a bowl of cold water and let stand until they are cool enough to handle. Peel, then coarsely chop the eggs
and add to the potatoes in the pan. Add the parsley, carrots, red onion, and dill and toss until mixed well.
Spoon the dressing over the potato mixture and gently turn over and over with a rubber spatula until all of the ingredients are well coated. Be careful not to break up the potatoes. Cover with plastic wrap and chill until it's time to serve. Refrigerate any leftovers and serve the next day.
CHECK OUT OUR VIDEO!
https://beeyot.com/wp-content/uploads/2020/06/Red-Skin-Potato-Salad.jpg
720
1280
Aleena Ali
https://beeyot.com/wp-content/uploads/2018/09/beeyot-logo-300x129.png
Aleena Ali
2018-11-23 12:27:32
2020-06-21 16:29:02
Red Skin Potato Salad