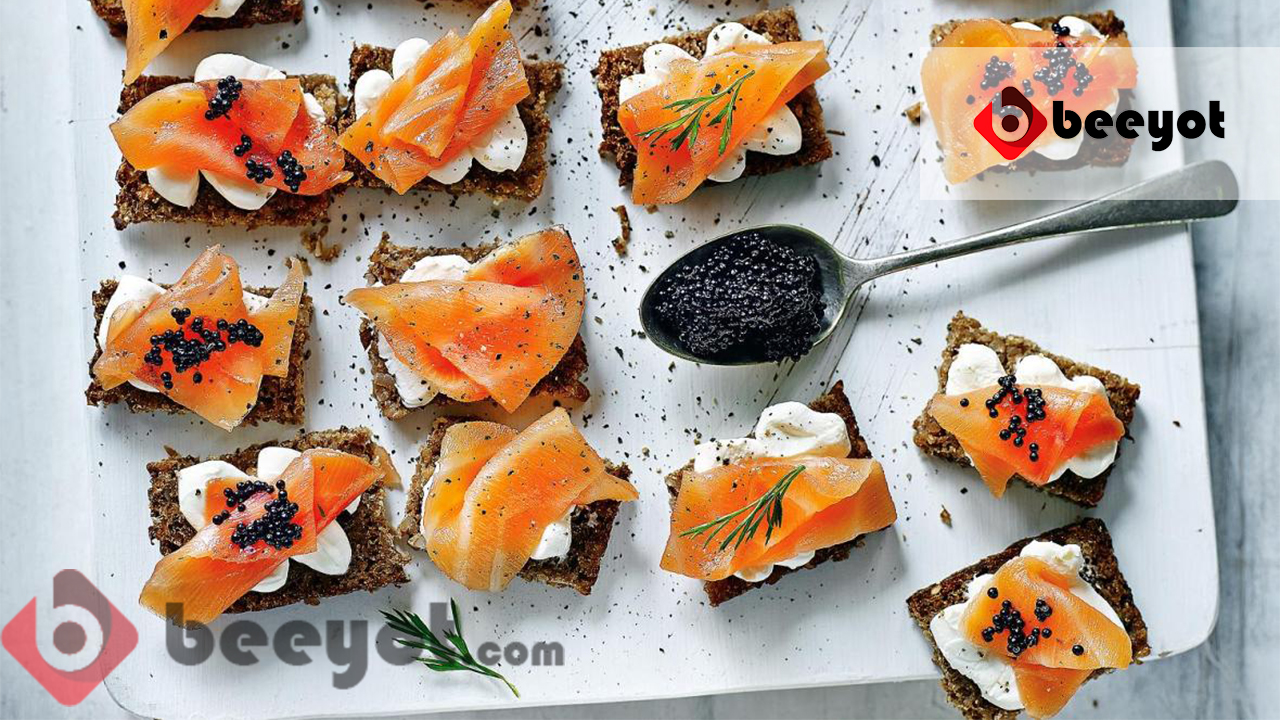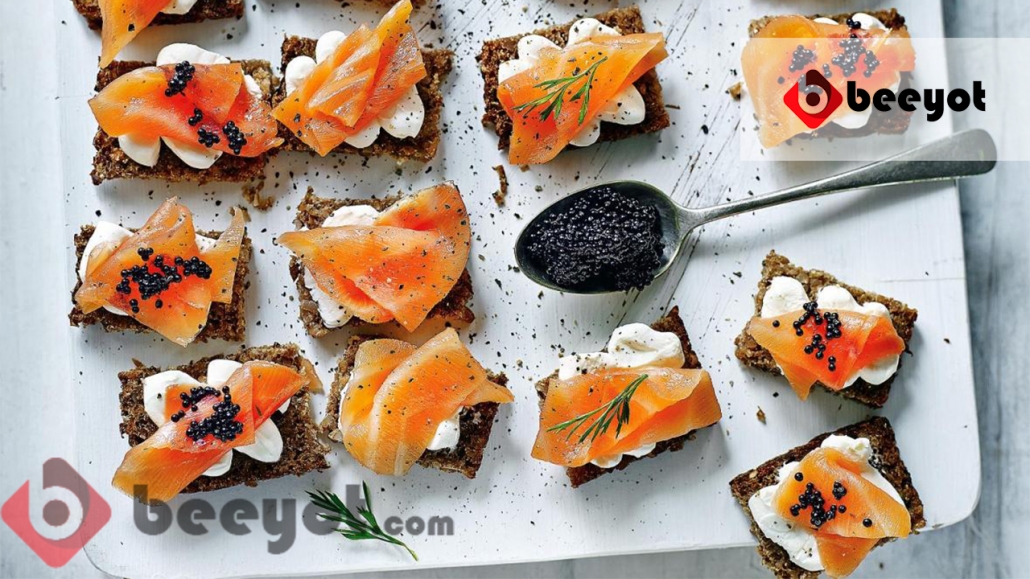 INGREDIENTS
One 8-ounce container crème fraîche (substitute full-fat sour cream if crème fraîche is unavailable)
1 tablespoon minced red onion
2 teaspoons Dijon mustard
1 teaspoon fresh lemon juice
3⁄4 teaspoon kosher salt, or to taste
1⁄8 teaspoon ground white pepper, or to taste
4 to 5 drops Tabasco, or to taste
For the canapés
1 pound very thinly sliced
smoked salmon (about 1⁄8 inch or thinner)
Eight 4-inch-square slices Danish pumpernickel or rye bread,1⁄4 inch thick
1 large seedless cucumber
Kosher salt
Fresh dill sprigs
METHOD
Measure all of the ingredients for the spread into a medium bowl. Mix gently with a rubber spatula until thoroughly combined. Cover with plastic wrap and refrigerate.
Cut the salmon into strips 31⁄2 x 1 inch. You will need 32 pieces.
Cut the bread slices diagonally from corner to corner, two times, so that each slice yields 4 triangles, for a total of 32 triangles. As you work, cover the bread with a damp paper towel to keep it from drying out.
Slice 16 rounds of cucumber, each 1⁄8 inch thick, then cut each one in half, making 32 semicircles.
Assemble the canapés: Working in batches of 8 at a time, spread a heaping teaspoon of the spread on each triangle of bread. Place a semicircle of cucumber on each, on an angle, and sprinkle with a little salt. Fold (but do not crease) a piece of salmon in half and perch on top of the cucumber slice so the ends of the cucumber show. Garnish each with a small sprig of dill. As you work, place the completed canapés on a plate, cover with plastic wrap, and refrigerate while you prepare the rest. Refrigerate until ready to serve. These are best served now a day they are made. Do not freeze.
Alan's Salmon Platter
Arrange 1 pound of very thinly sliced (1⁄8 inch thick or thinner) smoked
salmon (the best you can afford!) along the top and bottom of a serving platter, overlapping the slices as you go. In the center of the platter, mound 1 cup coarsely chopped red onion at one end, 1⁄3 cup drained capers in the center, and 1 cup diced (1⁄2-inch) ripe bright-red tomatoes at the other end. Garnish with 2 large lemons, sliced first into 1⁄8-inch-thick rounds, then into semicircles, tucking them between the slices of salmon. Add a few sprigs of fresh dill if you wish. Make two recipes of the spread (see the recipe on up ) and spoon into your prettiest small serving bowl. Refrigerate until ready to serve. Serve with pumpernickel or rye party bread, as for the canapés, but this time, cut each slice of bread into 2, not 4, equal triangles. Makes about 12 light brunch or light-lunch servings.
CHECK OUT OUR VIDEO!
https://beeyot.com/wp-content/uploads/2020/06/smoked-salmon-canapés.jpg
720
1280
Aleena Ali
https://beeyot.com/wp-content/uploads/2018/09/beeyot-logo-300x129.png
Aleena Ali
2018-11-09 11:02:39
2020-06-21 13:20:18
Smoked Salmon Canapes