Way down in the state of Texas, they like to make their chili with cubes of beef, tomatoes, and lots of heat—and not much else. The heat traditionally comes from ancho chiles. Beeyot serves a great bowl of red chili, so we've taken their recipe and made it with chunks of beef chuck that get more tender and flavorful as they simmer. Beans? You betcha — lots of them. And onions too. Serve over rice with a bottle of Tabasco on the side, which is a staple on every Texan's table.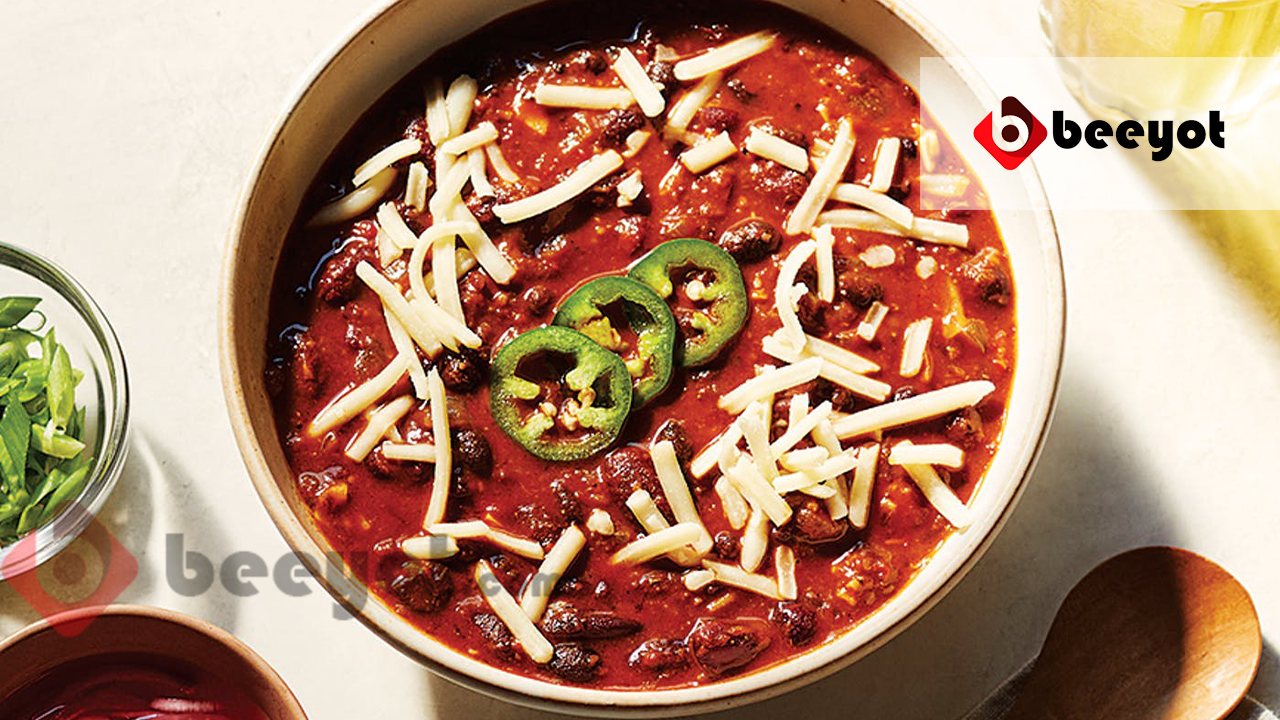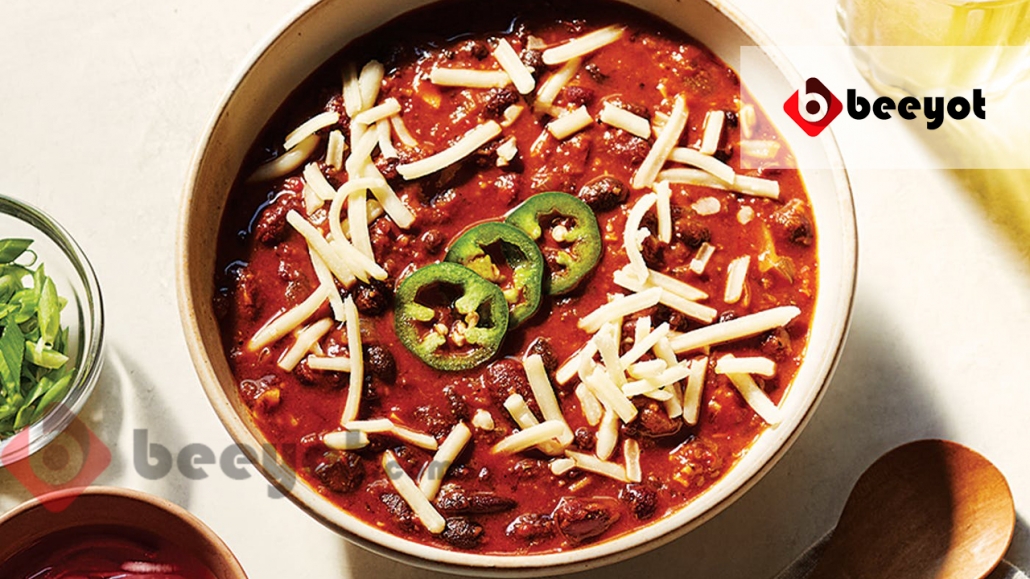 INGREDIENTS
3 to 3/1⁄2 pounds beef chuck, trimmed of fat
1 tablespoon kosher salt, plus more to taste
1 teaspoon freshly ground black pepper, put in more to taste
1⁄4 cup (1⁄2 stick) unsalted butter
2 large yellow onions, chopped
(2 cups) 1 large red bell pepper, seeded and chopped (1/1⁄2 cups)
3 large cloves garlic, minced
2 teaspoons ground ancho chile or
2 tablespoons chili powder
One 28-ounce can diced tomatoes (do not drain!)
One 15-ounce can kidney beans, rinsed and drained
One 15-ounce can pinto beans, rinsed and drained
2 cups beef broth, plus more if needed
2 tablespoons cider vinegar
1 tablespoon Worcestershire sauce
2 teaspoons brown sugar Tabasco, to taste
FOR THE ACCOMPANIMENTS (optional)
Cooked white rice
6 scallions (green part only), cut
1⁄4 inch thick on the diagonal, or coarsely chopped yellow onions Shredded Cheddar cheese
METHOD
(Makes about 2/1⁄2 quarts (4 to 5 main-dish servings)
Cut the beef into 11⁄2-inch cubes. Season with 1 teaspoon salt and
1⁄2 teaspoon black pepper. Brown on all sides in 2 tablespoons of the butter in a large Dutch oven over medium-high heat just until the pink disappears. Using a slotted spoon and cut to paper towels to drain.
Add the remaining 2 tablespoons butter to the drippings in the pan and heat until melted. Add the onion, bell pepper, garlic, ancho chile or chili powder, and the remaining salt, and black pepper. Cook, stirring, until the vegetables are tender, about 8 minutes.
Return the beef to the pot. Add the rest of the ingredients except the Tabasco and accompaniments. Bring to a boil, reduce the heat to low, and cover the pot. Simmer until the beef is fork-tender and the flavors are well blended, about 21⁄2 hours. Remove the cover during the last half-hour of cooking. Stir occasionally and add more broth (important!) if needed to get the consistency you prefer.
Season to taste with Tabasco. Serve over cooked rice and top with scallions and Cheddar if you like. If there's any chili left (hard to imagine!), let it cool to room temperature. Refrigerate, tightly covered, and enjoy within 3 days. This chili also freezes well, when properly packaged, for up to 1 month.
CHECK OUT OUR VIDEO!
https://beeyot.com/wp-content/uploads/2020/06/Texas-Bowl-of-Red.jpg
720
1280
Aleena Ali
https://beeyot.com/wp-content/uploads/2018/09/beeyot-logo-300x129.png
Aleena Ali
2018-12-03 12:34:07
2021-03-01 14:09:11
Texas Bowl of Red